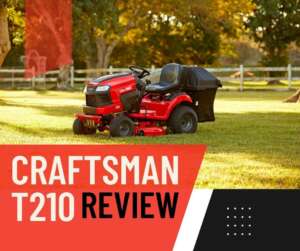 If you have a large yard, a dependable riding lawn mower is a must-have piece of equipment for keeping your grass under control. Some homeowners use a riding lawnmower even in smaller yards since it cuts grass faster than a self-propelled mower.
Riding lawn mowers are available in several sizes and forms to meet various needs. New steering and transmission systems have also improved technology, making these machines more effective than ever.
Overview
The Kohler gasoline 1-cylinder air-cooled vertical-shaft 540 cc engine of the Craftsman T210 CMXGRAM1130043 Lawn Tractor produces 18 horsepower (13.4 kW).
The Craftsman T210 CMXGRAM1130043 Lawn Tractor has an 18 HP Kohler 540cc 1-cyl gasoline engine, 42 2WD, hydrostatic transmission, 510 lbs weight, and unlimited forward and backward gears. Attachments for Craftsman lawn tractors include a 42-inch mid-mount mower deck, snowblower, and blade.
Review of Craftsman T210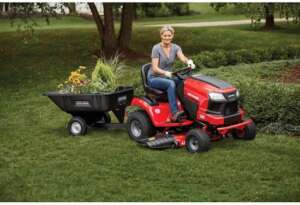 In this craftsman t210 review, I'll go over the characteristics of the craftsman t210 as well as the best alternative.
Easy to operate
The greatest garden tractor under $2000 in 2023 is the Craftsman T210 Turn Tight 42-inch riding lawnmower. This machine spins on a dime, as you would have assumed from the name. It includes a 5-inch turning radius, making cutting around trees and other landscape obstacles simpler.
Engine
It boasts a higher-backed and cushioned seat than comparable mowers in this price range, making it a more pleasant ride. With its 18 HP engine and 42-inch cutting deck, it's one of the better alternatives for household use.
Hydrostatic transmission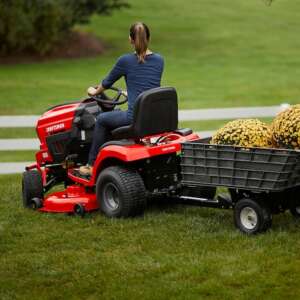 Thanks to the hydrostatic transmission controlled by foot pedals, this machine is very simple. With this mower, you get a lot for a reasonable price, including a 3-year manufacturer guarantee.
Complaints
One of our few criticisms of this machine is that it does not include a mulching kit, which you must purchase separately. Craftsman requests that you mail it to them, which is inconvenient for a riding mower. It's also worth noting that getting this mower serviced if you have problems might be tough.
Pros
Kohler single cylinder 5400 series engine, 18 HP
Seat with a high back for support and comfort
Front bumper added for further protection.
Manufacturer's three-year warranty
Cons
The mulching kit is not in the package.
Some find it costly
It can be problematic after some time.
Best Alternative of Craftsman T225 Lawn Tractor
A 19-horsepower Briggs and Stratton gas engine powers the Craftsman T225. It's one of the most powerful mowers in its class. The engine ensures that the mower never gets stuck, no matter how difficult the chore.
Craftsman understands how difficult it is to start your mower with a pull cord on a frigid winter morning; therefore, T225 comes equipped with a ready-start to ensure it begins straight away every morning!
Craftsman T225 Lawn Tractor
Brand Craftsman
Item Dimensions 71.75 x 51 x 47 inches
Item Weight : 582 Pounds
Cutting Width 46 Inches
Operation Mode Manual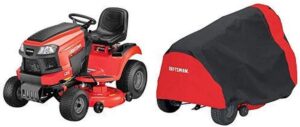 The Craftsman T225 Gas Powered Riding Lawn Mower can help you prepare your lawn for the upcoming season. It is one of the best alternatives for the T210 lawnmower that you have ever found on Amazon.
Ergonomics
The Craftsman T225 has one of the most comfortable seats I've ever seen on a mower. A backrest protects your back from shocks and undulations while also providing a place to rest your back.
In addition, unlike some other mowers I've seen, the seat is padded and adjustable. Over time, the benefits of a cushioned and adjustable seat become evident, and your back will thank you.
Mowing and cutting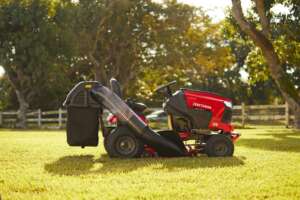 The Craftsman T225 can cut 46 inches of grass in a single sweep, giving it one of the largest sweep areas in its class. It also has a deck wash, so once you're done cutting and mowing, you won't have to fuss with the deck or get your hands filthy to clean it; T225 will do it for you!
It also has "mow in reverse," which means that if your mower's nose is facing in the wrong direction, you don't have to worry about repositioning it because it can mow your lawn while moving backwards.
Quality
A lawnmower isn't built to set lap records on a racetrack; a Porsche is. Lawnmowers are made to mow lawns, which are far tougher than racetracks.
That's why the T225's build quality is so superb. The panels were really strong and well-made, in my opinion. The controls are similarly fastened on tightly and are unlikely to break down long.
Hydrostatic transmission 
A hydrostatic foot-pedal transmission is with the Craftsman T225. If you're not mechanically inclined, you may skip this section. Still, a hydrostatic transmission uses a hydraulic pump to displace fluid at varying speeds, which causes the driving gear to move appropriately.
The nicest thing about a hydrostatic transmission is that it doesn't need maintenance. The transmission has almost no moving parts, and the system is sealed, so you're unlikely to have any fluid leaks throughout your time with T225.
Drivetrain
The front axle is built of cast iron, which is more durable and corrosion-resistant than steel. Although you can mow your lawn in reverse (as previously described), the T225 also has Turn Tight technology, offering a 6-inch turning radius.
Finally, the T225's 15-inch front wheels and 20-inch rear wheels provide outstanding ground clearance. It means it will not get trapped on bumps and lumps and easily pass them.
Cup Stand
Yes, there is a cup holder on this mower for your beverage! A unique feature that I wish Craftsman hadn't included. It implies your drink will either spill or shake so much that you will lose its heat. Mowing your lawn isn't always the most pleasant experience. Also, some of the vibrations make their way to the mower and, therefore, to the cupholder.
Pros
A strong Briggs and Stratton 19 HP engine is in the package.
The hydrostatic transmission is simple to use and requires no maintenance.
The backrest of this cushioned seat is adjustable for maximum comfort.
The cast-iron axle is resistant to bumps, wear, and corrosion.
Excellent construction quality
Large cutting area and self-cleaning deck
Cons
The headlights could have been better.
It is preferable to leave the beverage holder alone.
Final words
Mowing your lawn is a time-consuming task, especially if you do it by hand. The advancement of technology has provided us with powered lawnmowers, but the market is flooded with them. Craftsman T225 is the greatest T210 replacement.
The Craftsman T225 is a top-of-the-line mower that is among the best on the market today. I recommend purchasing it since it has a strong engine, a reliable transmission, and outstanding mowing capabilities.