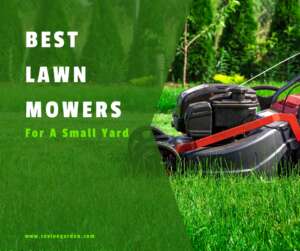 Getting a nice and economical lawn mower will be your top priority if you enjoy horticulture or enjoy adorning and maintaining your yard for decorative purposes.
Usually, if you have a 30 cubic yard area of a garden or lawn, you do not need a highly expensive machine to mow.
The main priority when buying a lawn mower for your small yard or garden is that the machine works efficiently, considering the small work area. Therefore, you need a compact lawn mower that is easy to maintain and a high-quality one at that.
This article will help you decide which lawn mower you should get for your small yard by presenting a list of the five best lawnmowers on the market.
You may also see our guide about the best garden tiller.
5 Best Lawn Mowers For A Small Yard

Editor's Choice

PowerSmart Lawn Mower Gas Powered with Bag





Power Source: Gas Powered



Color: Push Lawn Mower 1



Item Weight: 58 Pounds




LATEST PRICE →
American Lawn Mower Company 1204-14 14-Inch 4-Blade Push Reel Lawn Mower





Material: Alloy Steel, Polymer



Product Dimensions: 24"D x 20"W x 42.5"H




Item Weight: 20 Pounds





LATEST PRICE →
Sun Joe iON16LM 40-Volt 16-Inch Brushless Cordless Lawn Mower





Material: Metal



Product Dimensions: 48.4"D x 17.7"W x 42.9"H




Mode: Automatic





LATEST PRICE →
BLACK+DECKER Electric Lawn Mower, String Trimmer





Power Source: Corded Electric



Style: Corded Lawn Mower




Item Weight: 9.9 Pounds





LATEST PRICE →
Goplus 14-Inch 12 Amp Electric Lawn Mower





Power Source: Corded Electric



Item Dimensions: 43.5"D x 15.5"W x 37"H




Item Weight: 15 Pounds





LATEST PRICE →
5 Best Lawn Mowers For A Small Yard – Best in 2023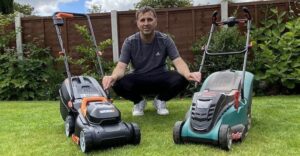 The five best lawnmowers listed in this guide have been analyzed based on their ability to function and work in a compact yard.
PowerSmart Lawn Mower Gas Powered with Bag
Power Source Type: Gasoline-Powered
Material: Alloy Steel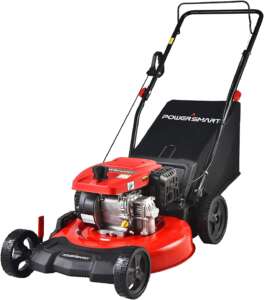 The gas engine of this Powersmart gas-operated lawn mower consists of some of the strongest and most efficient features, such as a four-stroke gas cylinder that is powerful enough to cut the sharpest of grass tufts of any size.
While you do your toughest job of cutting the grass, the engine is cooled down by the forced cool-down feature, which means your operation will not be hindered in any way. Even if you use the lawn mower for a smaller area of grass, this mower consists of a twenty-one-inch cutting deck made of strong steel, allowing you to finish the mowing quickly.
This self-propelled lawn mower has five different settings for height adjustment, so you do not miss a patch. The mower consists of a side discharge and mulching ability, which means that the grass clippings are returned to the soil, keeping it healthy and green, resulting in your lawn growing denser and greener.
The lawn mower is easy to maintain and, due to its foldable function, easy to store, and it does not take up much space in your tool shed.
The lawn mower is quite flexible in handling and has eight back wheels that do not get stuck and glide over the harsh and irregular ground without causing any hindrances; it also includes an eighteen-gallon large bag for more efficient gardening.
User Feedback
The customers are widely satisfied with the use of this gas-powered lawn mower by Powersmart, mentioning that the mower is of utmost quality and unmatched performance and comes with a long two-year guarantee which makes the users invest more confidence in the company.
The customer services team is always present to solve any problem and query related to lawn mower use.
One customer mentioned that they bought this for their old mother, who has difficulty moving, but this lawn mower is so easy to use, high-powered, and lightweight that anyone can use this on their lawn without putting in much force or effort to move it.
The start-up is pretty strong as well and does not require much pulling to get it to work; it cuts through the grass like a knife through the butter.
Read our reviews and buying guide to find the best gas lawn mowers under $100.
My verdict on the product
Overall, I consider this as the best choice for a perfectly high-powered and efficient lawn mower that allows you to put less effort, exert more pressure and force on the toughest of grass and overgrowth, and lastly, but not least, has more capacity so you can work more in less time.
Pros
2-year-long warranty

21 " cutting deck

Height adjustment settings

Smooth glide function
Cons
American Lawn Mower Company 1204-14 14-Inch 4-Blade Push Reel Lawn Mower
Power Source Type: Self-propelled
Material: Alloy Steel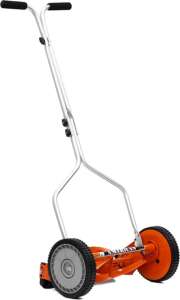 This is an environmentally friendly lawn mower which means it does not function on gas so it does not create any noise or air pollution as compared to other mowers on the market. It is relatively easy to upkeep, not heavy at all, and easy to move around without getting stuck. It has a cutting width of fourteen inches, making it ideal for small yards and lawn areas.
The wheels of this mower are 8.5 inches and smoothly glide over any surface, making the mowing efficient, quick, and easy. They are also sharp and made of alloy steel, making them increasingly long-lasting and reliable. The blade has an adjustable height from 0.5 to 1.75 inches and is razor-sharp to cut down grass. This mechanical lawn mower can cut up to four inches of tall grass.
User feedback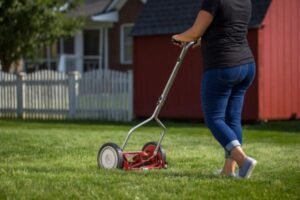 One user mentioned that they have a disability that makes the self-propulsion lawn mowers difficult to use for them. Still, with this manual lawn mower, it was easy to function without the mower vibrating or making a lot of noise. It does not create any pollution, such as gas emissions, that harms your health and the environment.
Another customer mentioned that the mower is easy to assemble, which means it is joined in just ten minutes if you know how to do it in the first place, which makes the process quicker. The mowing operation takes less than thirty minutes to clean up a larger or denser patch, while it takes much less time to do a small yard due to it being manual and allowing you to do a full-body workout, which is even healthier.
You do not need to adjust the height much often as it is good to go in the first place. Some of the much denser areas might require going over a few times to get the patch cleaned, but overall, the rear rollers are powerful and safely glide to and fro without getting stuck. It is super easy to store and does not take up much space.
My verdict on the product:
Overall, I consider this lawn mower a great option for you who are looking for a manual functioning lawn mower to avoid the negative effects of gas lawn mowers. It is super strong and easy to glide and move, even for people with disabilities or old age.
Pros
Easy to maintain and store

Great for the environment

Easy assembly
Cons
Sun Joe iON16LM 40-Volt 16-Inch Brushless Cordless Lawn Mower
Power Source Type: Battery Powered
Material:Metal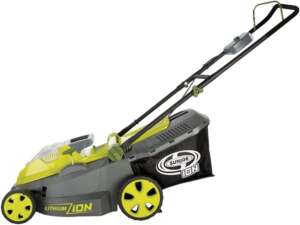 This Sun Joe lawn mower is the ease of use personified because it does not have the fuss of long cords that get tangled, no harmful emissions that destroy the natural environment, and no difficult upkeep and maintenance, which makes you spend tons of money on oil change and tuning of the mower.
It starts with a push of a single button and has an easy-to-use handle, meaning it does not require much effort or force by the user and does not cause pain or strain.
It also does not start using the pulling cords, and the motor is high-powered. It benefits the rechargeable battery by increasing its effectiveness, operation for about 2000 hours, noise reduction, and no crazy vibrational movements.
It is easy to store because it is small and perfect for even smaller to medium-sized gardens and lawns. The lawn mower has a 9.25-gallon bag and a discharge shaft that can be easily detached to remove the grass cuttings.
It has six different options for adjusting the height ranging from 1.18 to 3.15 inches for cutting the grass. The company offers a two-year warranty, so rest assured and mow away the lawn to beautify your outdoors conveniently.
User Feedback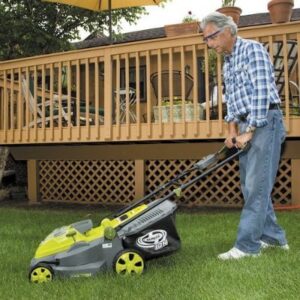 The customers mention that the lawn mower is overall an amazing device to use; it is battery-powered yet more powerful and durable than a gas lawn mower which is self-propelled.
The gas motor mentioned by one user got stuck in wet grass, which is not the case with this lawn mower, which does not get stuck in the wet grass or soil and glides and cuts through perfectly, cutting every inch of the outgrown grass.
In addition, the customers also mention that the bag looks small but has a lot of space due to the lawn mower being so compact and manageable, and it also comes with an indicator.
The battery life is great, which means you can mow your small to medium lawn twice a month; make sure you read the manuals that come with the lawn mower to take better advantage of it in the long run. This lawn mower is not noisy at all, especially if you compare it with the gas lawn mowers. Even the blades that cut the grass make a slight sound that is completely normal and tolerable. Overall, this lightweight lawn mower makes its use more efficient and quick.
Also, see our guide to discover the ultimate solution to keep your spuds fresh and organized with our handpicked selection of the 5 Best Potato Storage Containers; tried, tested, and reviewed for optimal storage and lasting quality.
My verdict on the product:
Overall, this great lawn mower is perfect for use in any setting, wet or dry grass, and soil, it is lightweight and fast, and the bag capacity is enough for you to mow your lawn four times a row.
Pros
Durable and reliable

Quiet operation

Efficient & powerful grass cutting
Cons
BLACK+DECKER Electric Lawn Mower, String Trimmer
Power Source Type: Corded Electric
Color: Orange
The automatic feed spool function makes the cable more adjustable and flexible, so it does not cause any knots to trip the user. This lawn mower is specifically designed for small lawn areas and has a twelve-inch blade and a 1.6″ cutting height with an 8000-powered motor that makes the mowing job easier than it looks. This lawn mower does not operate on gas; it is completely electric-powered and has an automatic cord withholding feature, so it does not get disconnected by mistake.
User feedback: 
The users mention that this lawn mower has all the capabilities that it has advertised, and it works all the same. Some considerations are offered by one user, such as the trimmer will detach while cutting the grass, so be careful of your surroundings and observe the device while you use it to avoid any accidents.
The cord will be over-used in the process, so ensure you have your replacements ready to keep your lawn mowing unlimited. It is easy to use and assemble, so it is ready when you get it. The customers praise the 3-in-1 features of the lawn mower, which makes it a strong contender and an easy-to-use tool in lawn maintenance.
It is very lightweight, fast functioning, super easy to move along the lawn, and does not need frequent wire changes, which means it can last a year if you maintain it correctly. The lawn looks much cleaner. Beautiful and aesthetically pleasing after each use. The only downside mentioned by one lady is that the instruction manual had vague instructions that confused them. This lawn mower is also perfect for people of any age.
My verdict on the product:
Overall, this lawn mower is an excellent addition to this list because it offers great performance, easy movement, and effective grass-cutting with a high customer satisfaction level.
Pros
3-in-1 features: mower, trimmer & edger

Easy to move around

Easy assembly and usage
Cons
Goplus 14-Inch 12 Amp Electric Lawn Mower
Power Source Type: Corded Electric
Color: Green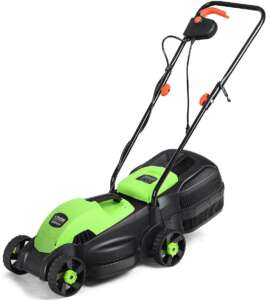 The handle of lawn mower is easy to handle and comfortable, so you can mow your lawn without feeling a lot of strain on your body, and due to it being an electrically powered mower, it is easy to move around. It is extremely light to handle and operates with 5.5″ wheels, reducing the operating time and saving energy and electric power.
The cutting deck measurement is fourteen inches with a power of 3600, meaning you can glide around the lawn mower and cut the grass efficiently in all areas of your yard. The electric feature offers quick and fast movement as well as cutting functions.
The capacity of this lawn mower to collect the grass cuttings is around 30L, so you do not have to stop more often and can continue.
It starts by pressing one button and avoids messy operations like gas-powered mowers. As with any good lawn mower, the collected grass can be easily dumped by detaching the grass catcher. The lawn mower has a foldable handle, meaning it takes less space in storage.
User feedback: 
Many customers praise the ability to handle and operate this lawn mower which offers a full body function that improves your overall health and your garden's look. The lightweight function and the low price is another plus, especially for people with a budget and back problems. The back-and-forth function of the lawn mower is smooth and hassle-free.
One user mentions that before using the mower, set it to a single moderate adjustment height for easy use every time. The mower assembly is also simple and easy and lasts for a whole season when you need lawn mowing the most. Another user recommends using a good gauge to avoid any further problems.
My verdict on the product:
Overall, this lawn mower is a perfect package of ease and high-performance ability that lets you clean your small yard in no time. Easy handling and movement do not require much effort and pressure to mow the lawn.
Pros
Great performance & functionality

Easy storage & compact handle

Simple use & assembly
Cons
Buying Guide
Buying a lawn mower for a small yard or lawn should not cause much problem because you only need a compact, lightweight, and easy-functioning mower.  Following are some suggestions you need to follow for getting a lawn mower for a small lawn:
Power Source:
There are 4 choices: a reel, battery, gas, and a corded one. Choose the one that fits your requirements and preferences.
Blade Width:
If the blade is wide, it saves time and energy, so choose according to your yard size.
Weight:
A lightweight lawn mower will simplify the mowing process for you and clean your grass in one go.
FAQs
What type of lawn mower is the best for anyone?
A manual or electrical one is the best choice for people with disabilities or those suffering from movement or joint problems.
Also Read: Best Weed Killer For Lawns
Final Verdict
I hope this article helped you find the best lawn mower for a small yard. All the listed items are great in terms of durability, ease of use, performance, and speed. Overall, the best option for an electric lawn mower is the American Lawn Mower Company 1204-14 14-Inch 4-Blade Push Reel Lawn Mower, and for the gas lawn mower is PowerSmart Lawn Mower Gas Powered with Bag.