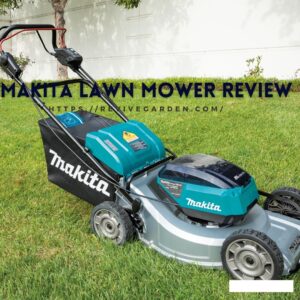 We've reviewed self-propelled lawn mowers and the best electric lawnmowers. We've spent numerous hours testing them. So if you've chosen Makita as your preferred brand, there are over a half-dozen models to pick from!
Makita Lawn Mower

Editor's Choice

Makita Cordless Manual 36V Lawn Mower




Power Source: Battery Powered



Brand: Makita



Material: Plastic




LATEST PRICE →
The Makita Cordless Rotary




Power Source: Battery Powered



Material: Plastic



Weight: 38.2 Pounds




LATEST PRICE →
Makita Self-Propelled Lawn Mower





Power Source: Battery Powered



Material: Alloy Steel



Weight: 70 Pounds




LATEST PRICE →
Makita cordless lawn mower





Power Source: Battery Powered


Material: Alloy Steel


Weight: 57.76 Pounds



LATEST PRICE →
Makita Cordless Li-ion Lawnmower with 4-Batteries





Power Source: Battery Powered


Cutting Width: 17 Inches


Weight: 45.1 Pounds



LATEST PRICE →
Makita lawn mower reviews
Before deciding on the finest Makita battery-powered lawnmower, you must study the numerous models and choices. To appeal to everyone from homes to professional gardeners and lawn maintenance crews, Makita has added additional features, preferences, and settings to the original model.
We surveyed our finest Makita lawnmower reviews for various uses to assist you. We've tested practically every model and have the facts, runtime, and more to help you make an informed selection and a comprehensive buying guide.
Makita Cordless Manual 36V Lawn Mower
Specifications
Brand:                    Makita
Material:               Plstic
Power Source:    Battery Powered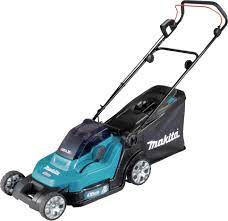 The Makita DLM380Z is a budget-friendly electric motor with many useful features. Makita's DLM380 cordless lawn mower features a strong 36v DC motor driven by two 18v Lithium-Ion batteries, allowing you to reuse your existing power tool batteries.
The 38cm cutting width is appropriate for most gardens, allowing you to mow big areas quickly and efficiently.
Similarly, the 40-litre storage tank is quite useful. It's a good size at 14 kg, and the design provides ample support to push this weight, even with a full tank of clippings. Don't worry about emptying it until you're through in smaller gardens, and you don't need to stop too often, even on bigger plots of ground.
On top of the grass box, a grass level indicator is placed to allow the user to check if the package is empty or filled. Foldable handle for easy storage It is powered by two 18V Li-Ion batteries and has six distinct height settings ranging from 25 to 75mm (no batteries in the package)
Pros
electric brakes
Easy to use
Good battery capacity
Grass collection box with a capacity of 40 litres
Cons
No batteries in the package
Final Verdict
Remove the lock key before checking, adjusting, cleaning, maintaining, leaving, or storing the mower. The product measurements are 46 x x x 71 x 39 cm, and the weight is 15 kg. A battery capacity warning bulb is in the package. The grass box is also in the package.
The Makita Cordless Rotary
Specifications
Brand:                    DLM431Z
Material:               Plstic
Power Source:    Battery Powered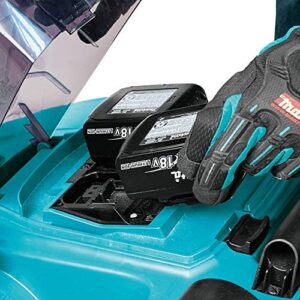 The lawnmower has two 18-volt 5Ah batteries that charge quickly and provide roughly 30 minutes of operating time. It is appropriate for lawns up to 950m2 (You have to buy batteries separately). The Makita DLM431Z has a height adjustment range of 20mm to 75mm and comes with a 50-litre grass collection box.
The Makita DLM431Z Cordless Rotary Lawnmower has a cutting width of 43cm and weighs 18.3kg (with batteries). 2 × 18 V Lithium-ion batteries are used in the Makita DLM431Z. These are wired in series to provide a strong 36 V to the motor, which can spin up 36,000 RPM.
It provides enough power for most scenarios and conditions in medium to big gardens. The 5 Ah batteries offer roughly 30 minutes of operation and can be recharged in only 45 minutes with a dual charger.
A 43cm rotary two teeth cutting blade is used by the Makita DLM431Z. It is somewhat higher than the average for lawnmowers in this class. It will enable you to cut the grass more quickly and efficiently with fewer passes and less effort. Compared to smaller blades, there may be a slight loss of precision, so it's all a matter of garden size and priorities.
For example, a smaller deck size is suited to a lawn with several short strips of turf surrounding flower beds, and This Makita mower will do the work faster because of its power and huge deck area.
Various circumstances determine the appropriate height for cutting your lawn, but the Makita DLM431Z will meet all of your needs. The lever is extremely easy to adjust and may be moved from 20mm to 75mm. Furthermore, it accomplishes it in seconds and with minimal effort.
Due to the breadth of the mower, the Makita DLM431Z has a somewhat large footprint. You may fold down the top handle to save room, thanks to the two screw clips on the side of the handles. Two bigger screws at the mower's base allow the top and lower bars to be folded down, decreasing storage.
Pros
Simple to use and transport
Excellent power
Fast cutting with a large 43 cm blade
Great 50-litre grass collection with a level indicator.
Easy to remove and replace grass collector
Soft-start feature
Electric braking system
Cons
The charger and batteries are not in the purchase price.
For bigger lawns, the 30-minute operating period is insufficient.
No mulching option
Back rollers are missing.
Final Verdict
This Makita DLM431Z mower's characteristics speak for themselves. It is quick, durable, and portable. You'll save time and work with the 43cm cutting breadth and large grass gathering box.
Customers like this popular lawnmower because the brand is well-known and trustworthy. It is dependable, long-lasting, and well-suited to medium and large lawns. Makita has struck the right blend of speed, power, and ease of use. It is an excellent option for medium and large properties.
Makita Self-Propelled Lawn Mower
Specifications
Brand:                    Makita
Material:               Alloy Steel
Power Source:    Battery Powered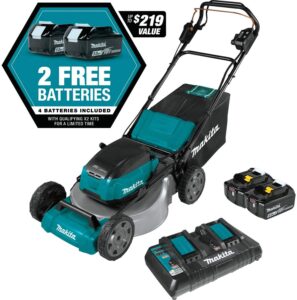 We gave the mower a shake and a wiggle after pulling it out of the box and going through the quick assembling process.
The frames of many household mowers have a lot of mobility. The Makita XML08, on the other hand, is rock solid, approaching the kind of stiffness we'd expect from a mower made for professionals.
The deck covers the mower's 21-inch blade and is commercial-grade steel. When we say it cuts 21 inches at a time, we mean it cuts 21 inches. Makita isn't one to play games with the deck size by dropping a smaller blade in it.
It is a good quality product if you're used to Makita's prior battery-powered lawnmowers.
It contains four batteries; however, only two are important to operate.
It can chop Bermuda, Bahia, and St. Augustine grasses together. We put 6.0Ah batteries to the test and didn't mess around.
We got 47 minutes of cutting out of our battery set by raising the deck height to 3 inches and cutting in America's oppressive heat and humidity.
You must use a switch at the battery door to swap between batteries manually. We prefer automated switching, but the silver lining is that you'll know when you've used half of your fuel.
The blade spent more time at a higher RPM than we expected from a 36V/40V max mower, cutting through with more confidence. When we cut the most elevated section of our test area, we usually cut in half swaths, but the Makita continued pushing through to retain its RPMs at a full cutting width.
To start the mower, push the power button like other Makita battery-powered OPEs. Then press a safety button and activate the blade.
Pros
Four battery compartment
The frame is well-built and robust, with a commercial-grade steel deck.
Quiet mode increases battery life and decreases noise.
Because of the drive bar's construction, stopping the drive without turning off the blades is simple.
Authentic 21-inch blade
Mulch, sack, or discharge to the side
Instead of hard plastic, rubber tires are used.
Cons
You must manually turn on the battery switch.
Battery-powered lawn mowers are near the top of the pricing scale.
Final Verdict
The Makita lawn mower has the strength and builds quality to fill in where gas mowers are unwelcome. We didn't find many complaints about it, except for maybe making the battery changeover automated. This product is apart from Makita's previous residential-focused models, offering Pros a cause to consider Makita a major choice. Moreover, if you are interested other than Matika, you can also check the Kobalt lawn mower by clicking here.
Makita cordless lawn mower
Specifications
Brand:                    Makita
Material:               Alloy Steel
Power Source:    Battery Powered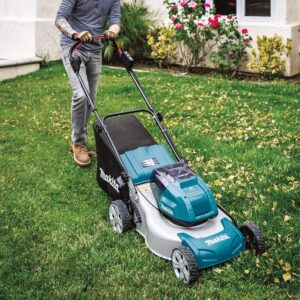 The Makita XML03CM1 and XML03Z lawn mowers are similar. The XML03CM1 and XML03Z vary in that the CM1 comes with four batteries, whilst the XML03Z does not.
The Makita XML03 series is a 36V lawnmower with an 18-inch cutting deck and two 18-volt batteries. A steel alloy cutting deck surrounds the blades. In 43 minutes, this mower can trim nearly 13 acres.
Brushless motors are excellent because they are long-lasting, sturdy, and quiet. The brushless motor in the XML03 rotates the blades at 3,300 revolutions per minute. These mowers also include a "silent mode" that reduces the number of processes per minute (2,500) and produces less noise.
This Makita lawnmower has a lot to offer. First, there's the 18-inch steel deck. For small to medium-sized yards (no more than 13 acres), 18 inches is ideal.
The solid metal deck is a major bonus compared to other electric mowers. The majority of them feature a plastic deck, which is susceptible to fractures and chips. Metal decks keep this from happening.
Pros
Commercial-grade steel deck
Single lever cutting height adjustment
16-gallon grass collecting capacity
fast timing for battery charging
Cons
A bit heavier
Final Verdict
These Makita mowers are suitable for most households; however, this may not be sufficient if you have a large yard (more than 1 acre). Aside from that, this mower is perfect. You may also visit our website if you are interested in different lawnmowers.
Makita Cordless Li-ion Lawnmower with 4-Batteries
Specifications
Brand:                    Makita
Material:              Plastic, Metal
Power Source:    Battery Powered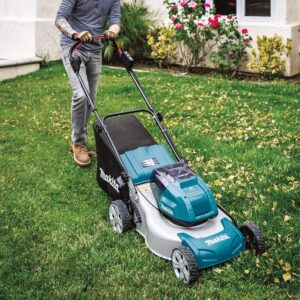 The Makita DLM380RF4 is another electric mower that is practical and versatile. There are aspects here that will appeal to many gardeners, so let's look through the highlights:
This item is lithium-ion powered, providing a superb electric device free of cords. This gadget also features four of these batteries, which minimize downtime. Excellent for really active gardeners.
With a cutting width of 38cm, this gadget is ideal for most gardens, especially those with big open lawn areas. Remove the lock key before checking, adjusting, cleaning, maintaining, leaving, or storing the mower.
The 40-litre storage tank is also a good feature, as it allows the lawnmower to run for a longer time without emptying it. Similarly, the mower features six different cutting heights that range from 25 to 75mm.
This Makita mower is remarkably compact, with a frame measuring 72 x 45 x 42cm. It is just 19kg in weight, so it is never too heavy to transport, even with a full storage unit.
Pros
There are no cords to worry about.
You do not need to be concerned about the cost of an additional extension cord.
The noise levels are also significantly reduced.
Cons
Batteries may not last long
Batteries can be an additional cost for you
Final Verdict
The four-battery setup is the major focus here, as it allows the mower to last through even extended mowing sessions. Nonetheless, it boasts plenty of useful features, such as long cutting blades, a large storage tank, and adjustable heights.
Buying Guide For Matika Lawnmowers
Before deciding on the finest Makita battery-powered lawnmower, you must study the numerous models and choices. To appeal to everyone from homes to professional gardeners and lawn maintenance crews, Makita has added additional features, preferences, and settings to the original model.
Begin by creating a budget.
Makita battery lawnmowers start at less than $500. However, most individuals should budget around $700 or more for a commercial-grade instrument. 4 XLT lithium-ion batteries are usually in the package. High-end commercial mowers are also available for over $800. If you don't do the math, you can have some misconceptions. When evaluating what you can obtain for much the same cost on a gas lawnmower, you may get more horsepower and functionality. However, it will not have noise, pollution, or maintenance advantages.
Is a Residential or Commercial Mower Required?
There aren't many distinctions between commercial and household walk-behind battery lawnmowers from many manufacturers. On the other hand, Makita focuses mostly on professional and commercial lawnmowers.
These Makita professional lawnmowers offer a recognizable style and features that fulfil the needs of landscaping and turf management professionals. . Makita also has a well-established brand, which should help the firm transition to rechargeable batteries outdoor power equipment completely.
Push vs Self-Propelled Mowers
Self-propelled lawnmowers have a small impact on runtime, but they won't cut it in half. Just make sure your budget isn't tipped. Variable speeds that allow you to walk at your own pace without trouble are preferred. If you're lucky, your local retailer may have one on hand for you to try before you buy. It takes some time to determine whether or not a mower is comfortable to use.
When turning around or making turns, be sure the mower enables you quickly drawback and stop the driving system. When the self-propel function on some lawnmowers is turned off, the wheels are compelled to drag rather than roll freely.
We have to admit that we still prefer the traditional push mower. You may save $100 or more while getting the same cut quality as a self-propelled model if you're on a tight budget.
If you choose to go that route, seek a lawnmower with a poly deck to assist in decreasing weight and wheels with low rolling resistance to lessen the power necessary to push it.
Adjustment for Self-Propelled Drive
Our testing team prefers a variable speed control distinct from the presence bar. A "Whisper Mode" is also included with the Makita XML03. Limiting noise and improving energy efficiency tell the brushless motor to spin at 2500 RPM.  The Makita XML11 incorporates a simple variable speed on the left to set the pace between the minimum and maximum extremes.
Which is better decking?
They produce mowers with all three decks, plastic, steel and aluminium,  although not all are available in every model. Poly (plastic) decks are not available on gas mowers. They're usually of steel. However, some mowers have aluminium because it is lighter and resists corrosion. Except for models aimed at professionals, the battery-powered lawnmower industry appears to favour poly decks.
Even though we "mow" a lot of sand in America, we have yet to wear through some plastic deck. Engineers can fine-tune the airflow for better lift, mulching, and bagging with poly.
Side Discharge, Mulch, or Bag?
Americans cut a lot of grass. It would be inconvenient to bag since you would have to stop every 5-10 minutes from emptying the bag. We choose to mulch instead. It also benefits the lawn by returning nutrients to it.
When your lawn becomes long after a trip, a good side discharge system lets you maintain mowing. However, if your grass is tall, side-discharge can help. Instead of allowing grass to pile up below and jam your blade, side discharge ejects it off the deck. Another option is to bag the mulch, but a sharp blade should be capable of evenly dispersing even heavy mulch.
Deck Height Adjustment
Most Makita lawnmowers come with the necessary height settings for practically any type of grass. Most professional users and clients set their deck height once and forget it. The only exception is upon returning from vacation or mowing when the grass has grown significantly. Then, for a "first pass," you could profit by raising the deck.
Additional Features
Standard features we look for, in addition to any noteworthy traits:
Type and function of the drive
Height and range adjustments
Handle placement
Options for discharge
Value
Value is much more than price to our team of specialists. It's all about what you receive for your money. An expensive model may be the greatest battery mower value if it performs far ahead of the cheap brands to warrant it.
Final words
In conclusion, whichever Makita model you purchase, you're getting a high-end, high-quality lawn mower that will transform your yard. Makita offers several cordless options for trimming, cutting, clean-ups, and mowing. However, after weighing all of these possibilities, it's evident that the Makita DLM431Z outperforms the others. This mower is difficult to overlook with a low price, several notable features, and a lithium-ion architecture that keeps up with modern technology.