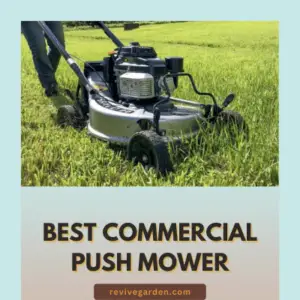 When buying a commercial push lawn mower, your top priorities are long-term performance, little maintenance, and reasonable pricing. An excellent commercial lawn mower has a razor-sharp cutting deck, allowing faster blade speeds and less clumping. A commercial lawn mower also features a longer runtime and an overheat avoidance mechanism, making it easier to use for extended periods.
This article will present the best professional push mowers accompanied by an informatic buying guide.
7 Professional push mowers
Makita Lawn Mower
Power: Battery
Dimensions: 33.47″D x 19.02″W x 22.44″H
Cutting width: 18 inches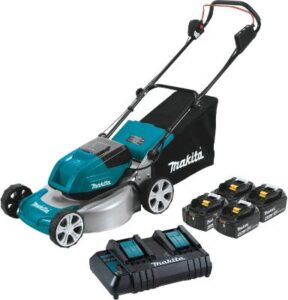 You should choose the Makita Lawn Mower if you require a powerful commercial lawn mower. It is ideal for effective grass mowing because it has zero emissions, decreased noise, and less upkeep. It is powered by two 18V LXT batteries for optimum power and run time while remaining on the battery platform.
The Makita-built motor has a maximum RPM of 3,300, which is great for standard and heavy-duty usage. The mower has features that make it easy to use, such as rapid height changes, a 16-gallon grass collection, and folding handles for compact storage.
The lawn mower's Makita Extreme Protection Technology (XPT) is designed to route water and dust away from vital internal components, improving performance in challenging situations. Because lithium-ion batteries charge quickly compared to other battery types, they can work more and more restlessly.
This lawnmower has star protection controls, enabling the tool and battery to exchange data in real-time and monitor operating conditions to prevent overload, over-discharging, and heating up. According to users, this product mows and collects grass, leaves, small twigs, and other lawn waste nicely.
Pros
This mower has push handles that can be folded for compact storage.
The grass catcher bag holds up to 16 gallons.
Cons
Greenworks Cordless Push Lawn Mower
Price: $$
Power: Battery
Dimensions: 61.81″D x 20.87″W x 40.16″H
Cutting width: 20 inches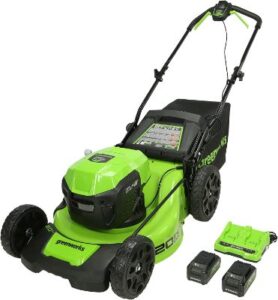 The lawn mower from Greenworks has a 24V lithium-ion battery that offers triple runtime and dual power and delivers power without fading, even after recharging. With a single 24V battery, this mower is perfect for handling yards up to 1/4 acre, and with two 24V batteries, up to 1/2 acre.
This mower differs from others because it has four features: side discharge, rear bagging, and mulching. Additionally, there is a turbo button for efficient leaf pickup and quick operation. The mower includes a single lever height adjustment with seven positions, making height adjustment quick and simple.
This mower's extremely effective brushless motor offers higher torque, quieter operation, and a longer lifespan. Without leaving the 24V battery platform, the dual batteries produce 48 volts of excellent, better than gas-powered mowers. You can run this mower for up to 45 minutes with two completely charged batteries.
You can always mow the lawn with the help of the LED lights at any time. This machine has a 20-inch cutting deck made of strong steel for efficient cutting and mowing. This unit's vertical storage makes for a small storage space. You don't have to worry about its use because it has a 3-year limited tool & battery warranty.
Pros
This mower comes with a dual port charger and batteries.
It can operate continuously for 45 minutes.
Cons
American Lawn Mower Company Push Reel Lawn Mower
Price: $
Power: Self-propelled
Dimensions: 33.47″D x 19.02″W x 22.44″H
Cutting width: 14 inches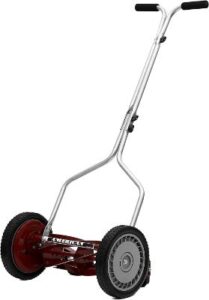 The American lawn mower company's manual lawn mower is available in six colors. The heat-treated alloy steel grass cutter blades on this self-propelled lawn mower maintain their edge for many years. It is so effective and efficient that it is nearly like using scissors to chop the grass perfectly.
Another outstanding quality of this product is its very low maintenance requirements, which many customers value and appreciate. You won't frequently need to sharpen the blades. This reel lawn mower also benefits the environment because it reduces carbon emissions. This mower is easy to assemble, and the 8.5-inch polymer wheels allow easy movement.
Depending on inclination, the cutting blades of this reel mower can be set from 1″ to 2.75″ to provide an optimal grass-cutting length of up to 1.75 inches. Using this mower on flat, dry grass is advised, and numerous passes are necessary to cut grass over four inches. With each use, you'll see your lawn becoming thicker and greener.
Pros
This mower is made of alloy steel which is strong and durable.
Polymer wheels on this lawnmower enable smoother, faster movements.
Cons
Fiskars StaySharp Max Reel Push Lawn Mower
Price: $
Power: Manual push
Dimensions: 24″D x 23.5″W x 14.25″H
Cutting width: 18 inches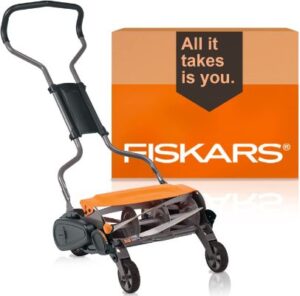 This Fiskars lawn mower is made to make it simple and efficient for the user to maintain their yard. It has clever technology and ergonomic features, making regular lawn maintenance simpler and more fun. It's quite simple to push through because of the design.
Let's talk about cutting performance now. This lawn mower has Inertia Drive Reel technology, which promises twice the cutting power of regular reel mowers. The grass is cut more quickly, saving time and effort, and the Stay Sharp Cutting System removes the expense and trouble of manual blade sharpening.
Despite having so many cutting-edge capabilities, this mower is remarkably comfortable to operate. It has a reversible grass chute can divert clippings away from your feet, making it simpler to mow challenging sections and minimize mess.
You can also adjust the height of the handle with a single touch for extra comfort and control over the mower. This environmentally friendly mower can cut grass without using gas or electricity. Lastly, the three-year warranty gives you more confidence to use the product.
Pros
This mower is six times easier to push through than reel mowers.
It is eco-friendly and produces less noise.
Cons
American Lawn Mower Company Push Reel Lawn Mower
Price: $
Power: Self-propelled
Dimensions: 25″D x 14″W x 11″H
Cutting width: 18 inches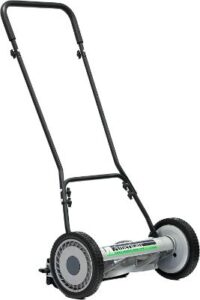 The American company's eco-friendly lawnmower offers ideal cutting for four inches or longer grass. This reel mower's strong, cutting-edge blades can be adjusted from 1″ to 2.75″ to suit personal preferences. The heat-treated alloy steel used to make the razor-sharp scissor-like blades provides a perfect cut lasting years.
Its low maintenance requirements make it the perfect lawn mower for long-term use, especially if you have a hectic schedule. It lessens the amount of carbon dioxide released during ordinary yard maintenance. To lower the mower, adjust the rollers very easily by hand without using any equipment, and you can lower it even further by altering the wheel height.
Users say that this lawn mower is far less expensive than virtually every other mowing option. It is environmentally friendly, which means there is no need for gas, oil, battery charging, or extension cord inconvenience, and it helps you save even more money.
Additionally, the scissor action cut is quite practical and is healthier for grass than standard mowers' tearing action, making cutting with this mower enjoyable. Another advantage is that it is quiet enough to use at night without disturbing your family or neighbors. Last but not least, it disperses clippings uniformly as you mow and handles thick grass without any problems.
Pros
This mower is perfect for users of all heights.
The blades offer a precise scissor cut.
Cons
Scotts Outdoor Power Tools Classic Push Reel Lawn Mower
Price: $
Power: Manual push
Dimensions:  28 x 18 x 10 inches
Cutting width: 20 inches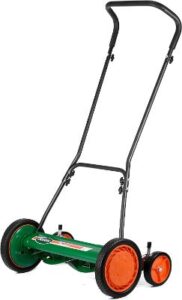 If you're searching for a high-quality, comfortable lawn mower, go no further than this classic Scotts manual push reel mower. It is the cleanest, quietest, and healthiest way to maintain grass. It benefits both the environment and the user because it does not emit any toxic gases.
It has an automatic 1″–3″ cutting height adjustment for consistently clean cuts with reduced mess. The cutting blades are composed of heat-treated alloy steel of the highest quality, making them strong and long-lasting. The ergonomic handle with padded grip provides improved control and comfort for continuous use.
This lawn mower's grass blades are not torn or ripped, and long-term maintenance is incredibly simple. The 5-blade ball bearing reel cuts the grass like scissors, resulting in an accurately trimmed, healthier lawn that develops into a luscious green color. It is also simple to put together, lightweight, maneuverable, simple to use, and small enough to store anywhere.
According to users, this mower quickly and efficiently cuts grass without being too heavy or uncomfortable. The 20″ cutting path is relatively broad and facilitates speedy cutting. It is well worth the money and quite simple to maneuver and use regularly.
Pros
This mower features ergonomic padded handles for comfortable use.
It is super lightweight and works faster.
Cons
WORX Nitro Cordless Self-Propelled Lawn Mower
Price: $$$
Power: Battery
Dimensions: 61.06″D x 21.85″W x 42.72″H
Cutting width: 21 inches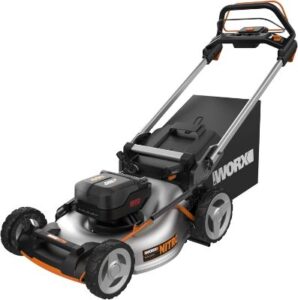 Compared to a gas lawn mower, the Worx NITRO offers even higher performance and use. This self-propelled lawnmower has rear-wheel drive and variable speed control that adjusts to the density of the grass. It has three functions: mulching, bagging, and side discharge for cleaner cuts and trash reduction.
This lawnmower has a 40-volt brushless motor that is more powerful, has a longer runtime, and is easier to maintain over time. Utilizing Intellicut technology, the mower automatically adapts its performance to the state of the grass, providing high or low torque performance for thick or dense grass. The sturdy 21-inch steel cutting deck also has a two-stage mulching capability.
Additionally, there are single-lever controls for changing the grass/bag mode and adjusting the cutting height to seven different positions. Due to the LED lights' increased visibility in low light, you can mow the lawn whenever possible.
Additionally, the mower has a collapsible handle that can be bent for simple storage. A charge-level indicator also offers rapid access to the amount of runtime left. Last but not least, it has a three-year limited warranty and a 30-day return policy.
Pros
This mower comes with quick change cutting mode levers.
It comes with a mulch and a side discharge bag.
Cons
What to look for in the best commercial push lawn mowers?
Function and features:
The main things to look for in a commercial lawn mower are longer run time, high voltage motor (if electric), ease of use (both battery and manual ones), heat prevention feature (electric), ergonomic design, and adjustable handle.
Type and use:
There are different types of lawnmowers, mainly self-propelled, manual, and battery or electric. A battery-operated one is a good option when you need quicker functionality and usage without wasting any time. While the other two options are better if you have spare time, you need an eco-friendly and safe operation with low costs and maintenance.
Durability:
Most of the lawnmowers on this list are highly durable thanks to their cutting decks, alloy steel blades, and lower maintenance costs. They also come with at least a three-year warranty or a money-back guarantee.
FAQs
What is the ideal cutting width for a larger lawn area?
The ideal cutting deck width is 21 inches.
Is a manual reel push lawn mower a good option?
Yes, it's a great pick if you have tall grass and a lot of sticks in your yard.
Final Verdict
This article presented the best commercial-grade lawn mowers ideal for heavy-duty use. I pick Makita XML03CM1 36V (18V X2) LXT® Brushless 18″ Lawn Mower and WORX Nitro WG753 40V Power Share PRO 21″ Cordless Self-Propelled Lawn Mower for battery-operated picks. Scotts Outdoor Power Tools 2000-20S 20-Inch 5-Blade Classic Push Reel Lawn Mower is a great option for a manual pick.
These picks are ideal for large lawn areas, offer a longer runtime and efficient performance you can trust, ease of use, and ergonomic features for a hassle-free lawn mowing experience.