Every person who has a lawn in their yard ensures that the lawn or garden, together with their plants and flowers, is kept in good condition. But weeds are every gardener's biggest nightmare since they deprive the rival crop of soil moisture, sunlight, and nutrients and reduce the effectiveness of harvest.
Weeding can be a time-consuming and tedious task, especially if you don't have the necessary tools. Both the mowing and trimming procedures need some level of effort and accuracy to be completed successfully. To accomplish the task, you will therefore need a powerful weed whacker, but you also need the appropriate spool of thread.
The most important thing to look for in a string trimmer line is its material, resistance to both friction and heat, and the kind of work it is to be used for (light to dense lawn). This article will present the best weed eater strings and a brief buying guide to help you get on with the buying process.
6 Best Trimmer Lines
Oregon 22-895 Magnum Gatorline Square Trimmer Line
Price: $
Dimensions: 8 x 8 x 9 inches
Workload: Medium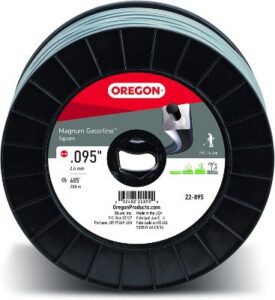 In comparison to a conventional trimmer line, the Oregon trimmer line offers higher cutting efficiency and enables you to make cleaner; straighter cuts with less effort. It also has a high-strength inner core that resists breaking, making it extremely trustworthy and robust. As a result, the line lasts longer, and you need to wind spools less frequently.
It is a trimmer line that is square and has four sharp blades that slice through vegetation in a smooth, even motion. For relatively small commercial work or for cutting thick weeds in your yard, the.095″ diameter trimmer line is an excellent size.
This trimmer line can be loaded in under 30 seconds. Its inner core is incredibly strong, unbreakable, and flexible. Under prolonged, extremely hot usage conditions, its exterior cover is weld-proof. Users say that this string trimmer line is the best since it is the strongest, can cut through thick foliage, and breaks off less frequently.
Pros
This weed trimmer line provides cleaner and straighter cuts.
It is ideal for both light to medium commercial lawn work.
Cons
Oregon Gatorline 1-pound Round String Trimmer Line
Price: $
Dimensions: 12 x 12 x 12 inches
Workload: Light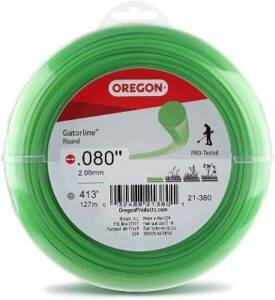 This is another long-lasting, high-quality, and breakage-resistant trimmer line from Oregon designed for both homeowners and builders. The .080-inch diameter trimmer line is ideal for modest operations like trimming grass and clearing seasonal weeds. It easily fits the most commonly used trimmer heads, including fixed-line, semi-automatic, and bump-feed heads.
Additionally, it works with most straight- and curved-shaft trimmers that are powered by gas, electricity, and batteries. This string trimmer line consists of a reinforced Nylon copolymer, which is more durable than a conventional trimmer line, and offers impact resistance for stronger performance.
Users mention that their trimmer fits properly and without any problems with this trimmer line. It is accessible from the case and seems to last for quite some time. It has held up well over numerous uses and easily cuts through grass and weeds.
Since using this line, users have also seen a considerable increase in trimming efficiency. It also offers excellent value for the money. Overall, if you're looking for a dependable and efficient trimming solution, I'd highly suggest the Oregon Gatorline String Trimmer Line.
Pros
This string trimmer is ideal for small lawn jobs that prioritize speed and efficiency.
It comes with a limited lifetime warranty.
Cons
Husqvarna string trimmer line
Price: $
Dimensions: 6 x 6 x 1 inches
Workload: Medium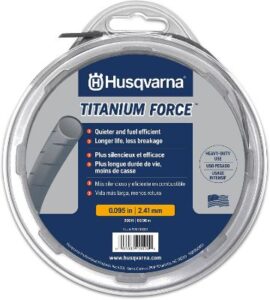 The Husqvarna Titanium Force String Trimmer Line is an ideal choice for you because it is manufactured with a commercial-grade copolymer weed trimmer line. It functions with an advanced titanium force design that gives you more runtime, higher performance, and quicker acceleration. This trimmer line is meant to last a long time and works with both gas and cordless trimmers. For a calm and pleasant working environment, this technology also enables a 50% reduction in noise level and fuel usage.
Husqvarna Titanium Force String Trimmer Line is appropriate for all-around use on a variety of applications and is compatible with all common string trimmer heads. The Husqvarna trimmer has an oscillating surface for silent operation and precision cutting, as well as excellent abrasion resistance for long life and less breakage.
Customers rave about how well this string trimmer line works, how quiet it is, how long it lasts, and how cleanly it cuts. Durability and reliance are other features that users praise about this weed trimmer line especially compared to similar products.
Pros
This string trimmer conserves fuel and energy.
It reduces the noise level by 50 percent for quieter operation.
Cons
Cimekuong 2-Pound Square Trimmer Line
Price: $
Dimensions: 8.94 x 7.76 x 3.35 inches
Workload: Medium
This string trimmer line is excellent for eating weeds in a hygienic manner because it is very strong, dependable, solid, and high-quality. The trimmer line is thicker to withstand breakage and has a sturdy inner core, which means it has a longer lifespan and requires less winding time. It is much more efficient than typical trimmer lines at getting rid of weeds, saving you time and extra work.
The square-shaped trimmer line has its own benefits, such as greater cutting efficiency than the round trimmer line and greater durability than the twist weed eater string to prevent breaking when cutting through vegetation.
Users say the orange color makes it simple to find when the line breaks, which is a great benefit. Due to the fact that it is stiffer than other brands, it does necessitate cutting the line a little more. It is more sturdy because of its rigidity.
Pros
This weed trimmer line works efficiently and quietly.
It is ideal for medium grass and weeds.
Cons
An ANLEOLIFE 1-Pound Heavy Duty Octa-Twist
Price: $
Dimensions: 10.39 x 9.37 x 2.52 inches
Workload: Heavy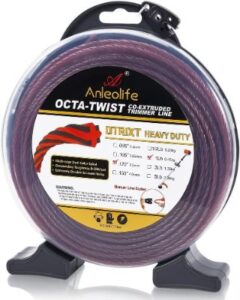 This string trimmer has a multi-edge bi-component spiral profile that easily cuts through tougher grass and thick pesky weed growth. By replacing the trimmer line, you can simply prevent reduced downtime since it has a special aerodynamic octa-twisted design that also lowers line vibration and produces a cleaner, more equal cut.
It outperforms other lines on the market and is excellent for heavy-duty professional use due to its exceptional durability and longer runtime. This trimmer line is compatible with most corded and cordless string trimmers, as well as gas and electric weed wackers. Additionally, it comes with extra cutting tools for easy and rapid line cuts.
Due to its greater flexibility, users say that this line is considerably simpler to load into the trimmer. In fact, it helps to be a little bit thinner when cutting narrow places. It is ideal for use by both homeowners and commercial users.
Pros
This trimmer line is durable and provides a longer run time.
It has an aerodynamic design to reduce vibration.
Cons
An ANLEOLIFE 1-Pound Commercial Square
Price: $
Dimensions: 10.59 x 9.57 x 2.6 inches
Workload: Medium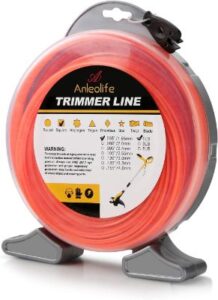 The Anleolife string trimmer line has multi-side cords that rapidly and effectively cut through thicker grass and heavier weeds, thus reducing the cutting time. Its robust nylon 66 copolymer construction provides strength, while plasticized components increase impact strength and durability, enhancing its resistance to damage.
This replacement line is ideal for all widely used gas and electric trimmers. It is strong, dependable, effective, and simple to use. You'll make sure to maintain a neat and orderly garden. It also comes with an extra set of cutting tools for easy and rapid line cuts.
Users note that even after repeated usage, this trimmer line maintains its shape well and consistently cuts through large objects. When needed, the line's square shape allows for quicker cutting of thick materials. With this line, you get superior stability and more value for your money. Although a little challenging to put into practice, it is well worth the effort. Even when used along a chain link fence, this string or square rope survives very well.
Pros
This weed trimmer line is made of durable plastic and nylon, which resist damage.
It comes with bonus cutting tools.
Cons
What to look for in the best weed trimmer line?
Material
Nylon trimmer lines are the most widespread since they are the most widely used material for trimmer lines. They are affordable, adaptable, and work with all string trimmers. Crisper trims improve durable performance and even cut on light weeds, made possible by the strong shell. On this list, there are also copolymer trim lines that combine materials like nylon and aluminum to improve the resilience and usability of the strings. The most revolutionary material that increases utilization effectiveness and can be used on the toughest surfaces is titanium which ensures a longer product life cycle and sturdy functionality.
Resistance & Durability
String trimmer lines typically rebound on readily to softer surfaces but struggle when set against concrete fences because they operate on the principle of friction. If you're working with dense weed plants, you will need to apply additional pressure on the machine. The string lines get stuck as a result of the significant friction this causes inside the head. The thread eventually welds onto the spool in its entirety, rendering it worthless. As a result, high-quality materials like copolymers and nylon produce more durable lines that can survive some heat and friction.
Performance and usage
A trimmer line's performance and ability to act on a particular texture are both determined by its dimensions. Thinner threads that range in diameter from 0.065 to 0.8 inches are appropriate for light duty and work well on lawns that are routinely maintained since they give softer grass a very clean trim while whacking smaller weed plants. Choose 0.95 to 130″+ trimmer lines if you wish to go with thicker options when working on dense vegetation and thick grass during medium- to heavy-duty trimming. The trimmer line's durability and resistance are also increased by its thickness.
FAQs
Are string trimmer lines noisy?
No, the trimmer lines are specially created either from nylon, titanium, and copolymer to ensure less noise and more focus on work efficiency.
Which trimmer line shape is ideal for getting rid of weeds?
The square one is the most common and widely used plus the preferred shape for trimming weeds because it provides a clean and even cut, especially for thick areas.
Do the string trimmer lines break easily?
With constant friction and performance, it is easy to think that the string lines are fragile, but in reality, they are created from wear and tear-resistant materials, which ensure non-breakage and longer usage.
What is the importance of a string trimmer line?
To efficiently get rid of weeds in your lawn, you will need a trimmer line that is strong, quiet, long-lasting, and resistant. It spins more smoothly and provides straight, clean cuts by efficiently cutting through weeds and grass.
Is the string trimmer line ideal for heavy-duty lawn work?
The string trimmer lines range from light to heavy-duty lawn work.
Do I have to buy a string trimmer line to get rid of weeds?
This equipment is ideal for grass upkeep and is a must-have for gardening enthusiasts.
Is it necessary to keep the string trimmer line wet?
Yes, the trimmer line should soak in water before use to help keep it supple and durable and avoid premature breakage.
Final Verdict
This article presented the best commercial trimmer lines by trusted brands. I pick Oregon 22-895 Magnum Gatorline Square Trimmer Line, Husqvarna string trimmer line, and Cimekuong 2-Pound Square Trimmer Line as the best trimmer lines in terms of durability, quiet operation, energy saving, versatility, reliability in the long run, high quality, speedy performance, and pricing.
These picks are ideal for regular lawn maintenance to heavy-duty lawn maintenance for thick and dense lawns. They are also ideal for cleaning the edges around walkways and other narrow areas where high precision is required. They are also ideal for commercial purposes, homeowners, and DIYers.