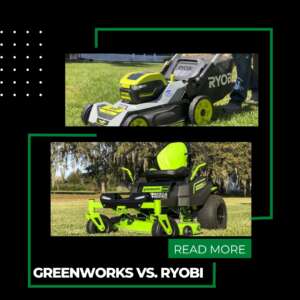 Every handyperson must make a significant selection regarding their brand of outdoor tools, and this decision is typically not easy. You have to take a lot of various things into account.
Additionally, you must pick the proper brand at the outset because every product line has a corresponding accessory system.
The two most famous producers of electric lawnmowers are Greenworks and Ryobi, who provide products with comparable cutting power and efficiency.
For anyone wishing to purchase a powerful, dependable lawn mower for their garden this summer, the Greenworks vs.
Ryobi lawn mower comparison is crucial. Even though both manufacturers significantly impact the gardening industry and offer a wide range of products, we're analyzing which mowers, in particular, are the best to choose from.
In this blog, we will discuss the comparison between Ryobi and Greenworks and see which is best.
About The Manufacturer
The most widely used brand of electrical power mowers is Greenworks. Greenworks was established in 2007 by Globe Tools Group to advertise it has lithium-ion technology. An organization with its roots located in North America is now present across Europe, Australia, and Asia. In North Carolina, and Mooresville, in the US, Greenworks has its headquarters.
For the residential consumer market and outdoor enthusiasts, it offers a comprehensive variety of electric lawnmowers with corded features and electric-powered lawn mowers. It also produces riding with zero-turn lawn mowers.
The 24V series, its first battery-operated lawn mowers series, comes with a single battery sharing. Greenworks immediately introduced 40V battery mowers due to their popularity, increasing brand recognition.
On the second hand, Ryobi as a business is old. The original manufacturer, One World Technologies, was founded on December 16, 1943. Under the name Ryobi, the company started producing power tools in 1968.
Ryobi lawn mowers are more adaptable because they come in gas-powered, battery-powered, and corded variations. It is famous for selling premium power tools and outdoor gear at affordable prices.
Read our comprehensive guide on who makes powersmart lawn mowers.
Difference Between Greenworks And Ryobi Lawnmowers
Lawn mowers from Ryobi and Greenworks are very distinct from one another. Let's take a quick look at a few of the key characteristics that set them unique from one another.
Battery
Greenworks offers cordless electric options with batteries ranging in voltage from 24 to 80 volts. On the second hand, Ryobi lawnmowers' entry-level battery provides 18 volts. The lawn mower powered by batteries from Ryobi has a 40-volt maximum voltage.
Greenworks offers a wider variety of batteries in their lawnmowers than Ryobi does. Additionally, you may get a double battery setup in various models from Ryobi and Greenworks.
Consequently, we can conclude that Greenworks is superior in terms of batteries due to its availability of more options.
Time for Mowing After A Full Charge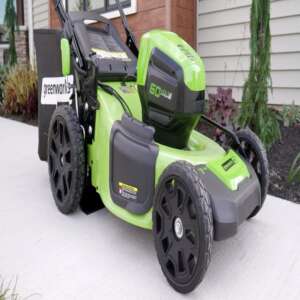 The lawn mowers from Greenworks have a lengthy runtime. The mower time depends on the model of the lawnmower. It may take 30 to 60 minutes to mow everywhere.
In contrast, Ryobi lawn mowers' battery life is shorter than a Greenworks lawn mower battery. It depends on the type of mower battery you have; you can mow for between 20 and 40 minutes, according to the battery model. A lawn mower can be utilized to mow for a longer period the longer its battery backup will survive.
So the Greenworks lawn mower outperforms the Ryobi lawn mower in terms of how long it can mow after a full charge.
Warranty
Depending on the model, Greenworks mowers have a three-year components guarantee and a two-year battery warranty.
In contrast, the hardware warranty for Ryobi mowers ranges from three to five years, and the battery warranty is three years, depending on the model. In contrast to Greenworks' four-year warranty, Ryobi's lawn mower has a five-year hardware warranty. Additionally, Ryobi's battery warranty is longer than Greenworks', at three years.
Therefore, choosing a Ryobi lawn mower will make sense in the meaning of the warranty.
Storage
Storage is one of the main features you consider while buying a lawnmower. Although the Greenworks' handles may be folded to reduce storage space, it still takes up a lot of room.
On the other hand, the Ryobi can be placed vertically, which means it takes up less room when stored.
Safety And Handling
Greenworks and Ryobi both have security measures in place. The Greenworks also has security measures in place to stop accidental machine starts.
Even though it also has a push button starter, it requires you to attach the safety plug and tug on the speed handle. Pulling the safety plug will stop the motor immediately if you need to stop it in an emergency.
Push-button starting means there is a risk of unintentional starting with the Ryobi. Thankfully, Ryobi added a safety function that requires you to press the bail lever before it starts. It also needs a fuse key to ensure that there are no unintentional starts.
Both devices are manageable due to their relative lightness. The Greenworks weighs 42.5 lbs., slightly less than the Ryobi's 45 lbs. The Ryobi includes telescoping handles that you may adjust for optimal comfort, giving it an edge over the Greenworks.
Price
The price of Greenworks lawn mowers is a little higher. The most costly model costs $749.99, with prices ranging from $149.99 to that amount for other models.
Ryobi lawn mowers are slightly less expensive than Greenworks lawn mowers. The range of costs is $300 to $650.
The addition of extra delivery fees may cause a little variation in pricing. Compared to other outdoor equipment producers, Greenworks and Ryobi have affordable prices. The Greenworks lawn mower costs a little bit more than Ryobi lawnmowers, though. The Ryobi lawn mower is a reasonable choice due to the price.
Which Lawn Mower Should Prefer?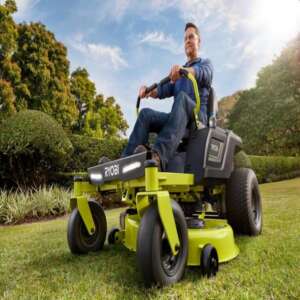 There is no yes-or-no choice in the question. It depends on your requirements and intended purpose. If you need a powerful battery for a long-time mower, then Greenworks is best.
More power is needed to work on rough ground. And you might think about acquiring a gas-powered lawn mower if you want more power from it. However, a battery-powered lawn mower might be the best option if you're looking for one to use on perfectly level ground with minimum maintenance.
Conclusion
Lawn mowers from Ryobi and Greenworks are both excellent options within a comparable price range. However, you always choose from them depending on your unique demands before deciding. We hope this article will help you in answering the questions. Please comment in the comment section if you have any suggestions related to this!