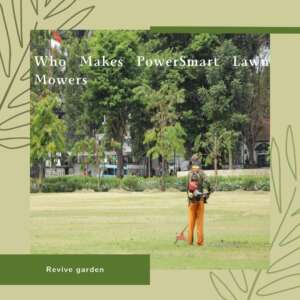 Lawns are frequent in our homes. Our yard wouldn't be complete without the lawn. And for maintaining the lawn, mowers are necessary. By maintaining a similar height for your grass, you can ensure that every inch of your lawn receives the same amount of sunlight, water, and fertilizer. Additionally, regular mowing helps your grass get healthier and stronger over time.
For this purpose, what you all need is a good mower. A recent addition to the market is the PowerSmart mower.
Lawn mowers from PowerSmart will offer you top speed and unique features. Every year, about 100,000 lawn mowers are sold throughout the world. PowerSmart is quickly growing into a trustworthy manufacturer.
This blog will let you know who makes PowerSmart lawn mowers and how reliable these brands are. Keep reading if you want to know more about the PowerSmart brand.
Which Company Manufactures PowerSmart Lawn Mowers?
The Powersmart brand, created by Amerisun Inc., includes the Powersmart lawn mower. This brand was founded in 2011. Amerisun, a company with headquarters in America, produces it, and it is the company's only brand. Amerisun produces goods for the economy's machinery, equipment, and sales merchant industries. The company's activity includes different agriculture equipment and widespread distribution machinery.
Although Amerisun has some contacts with Chinese businesses, the company's main office is in Itasca, Illinois. Its PowerSmart brand, particularly the mower, is among the top movers regarding cutting-edge technology for new outdoor power tools. The American business, which has its headquarters in Illinois, sells high-tech items such as portable generators, pressure washers, and lawnmowers. However, their flexible lawn mowers are what they are most well known for.
About the Manufacturers
Amerisun Incorporated was founded in 2011, as was previously indicated. Since its founding, Bill Godwin has served as its sole president. The company operates in the Merchant Wholesalers of Equipment, Supplies, and Machinery. Amerisun Inc. employs a total of 10 individuals at all of its locations.
Annual sales for the business are $10.69 million (USD). There are two companies in the Amerisun Incorporated family. Amerisun's industries include the wholesale trade, merchant wholesalers, power lawn mowers, residential snow blowers and throwers, and durable goods.
Construction, agriculture, and the manufacture of mining equipment are other sectors. There are a total of three Amerisun locations throughout the country. These three shops are all located in the American state of Illinois. Amerisun Inc.'s principal is Min Wang. Xiaomei Zhao, the business's financial controller, collaborates with Jim Weiskircher, its secretary.
Some of the top experts who have spent most of their life in this industry are employed by them to provide industrial services. Despite being in business for 11 years, the company has established itself among well-known names.
Is Amerisun a Trustworthy Company?
The majority of clients are pleased with Amerisun. It focuses all of its work on PowerSmart, the only brand. Therefore, both the PowerSmart customers and the PowerSmart products receive the respect and care they merit.
Amerisun offers particularly impressive customer service. Amerisun offers excellent customer service, which sets them apart from many other outdoor businesses and guarantees that all PowerSmart users receive the assistance they require.
How Effective Are PowerSmart Lawn Mowers?
The principles used by various machinery manufacturers vary. But it's interesting how similar some of them are. PowerSmart is managed by talented engineers who standardize for market reliability. However, PowerSmart is one of the brands that deal with various machinery.
It is a committed business whose testing procedures are based on consumer feedback and reports. The manufacturer is recognized as one of the market's top snow blowers and lawn mowers. So we can assure you that PowerSmart's lawn mowers are excellent.
Why is the PowerSmart Mower Special?
The PowerSmart mower is remarkable because of its awesome power. This brand is so new that it uses the most cutting-edge technologies to ensure the mower completes the task fast and conveniently. With the least effort necessary, you can cut through the tallest grass thanks to its four-stroke single-cylinder engine. Incredible durability and a sizable mowing deck go hand in hand with this convenience.
Who Is the Manufacturer of PowerSmart Engines?
Loncin engine normally supports PowerSmart devices. This Chinese firm is also in charge of several different outdoor tool engines. For instance, the engines of Toro snow blowers and PowerSmart snow blowers are remarkably similar. This indicates that the engines are reliable and strong.
What Kinds of PowerSmart Lawn Mowers Are There?
Chipper shredders, Snow throwers, pressure washers, pole saws, generators, and lawn mowers are all sold by PowerSmart. They now sell a few models of lawnmowers. Which are:
PowerSmart Lawn Mower DB8617P
The cutting depth is adjustable.

Effective forced air conditioning and backup system.

An efficient folding and storing system.

Agility and flexibility.

A steel deck for mowing large areas.

A three-year warranty
PowerSmart Gas Lawn Mower DB2321PR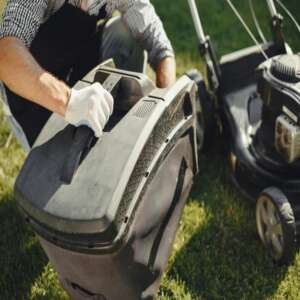 In a flash, pull to begin.

A three-in-one rear bag with a customizable design.

Finish the project more quickly and with fewer cuts.

Offers a superb cut and an effortless push.

Five customizable heights.

A three-year warranty.
PowerSmart Cordless Lawnmower PS76417
Has a three-in-one sliding discharge.

It's adaptable because it's cordless.

17-inch cutting with efficiency.

Increase or decrease the length of cutting by five places.

Has a huge battery backup.

A storable, foldable hand design.

A two-year warranty.
PowerSmart Gas Lawn Mower PSM2322SR
Provides more time with constant power.

Discharge bags have a 3-in-1 design.

Enough cutting surface with lasting strength.

Quick fold without using any tools.

Has a height adjustment with five positions.

A three-year warranty.
PowerSmart Cordless Lawnmower PS76821-A
Strong backup battery.

Has a cutting range of 1.18 to 3 inches.

Quickly folded without the use of any tools.

Warranty of two-year.
Where Can I Purchase a PowerSmart Lawn Mower?
One of their three American retail locations, all of which are in Illinois, sells PowerSmart batteries. Visit their website at Amerisun if you wish to make an online purchase. You can go to their customer care desk at Service. Additionally, their products can be found in retailers like Walmart, Amazon, eBay, and others.
Conclusion
PowerSmart will not disappoint you if you're looking for a reasonably priced lawn mower with excellent performance and durability. So, if the PowerSmart lawnmowers live up to your expectations, you should try these. We hope this article helped you in getting all information about the PowerSmart brand and their mower models.