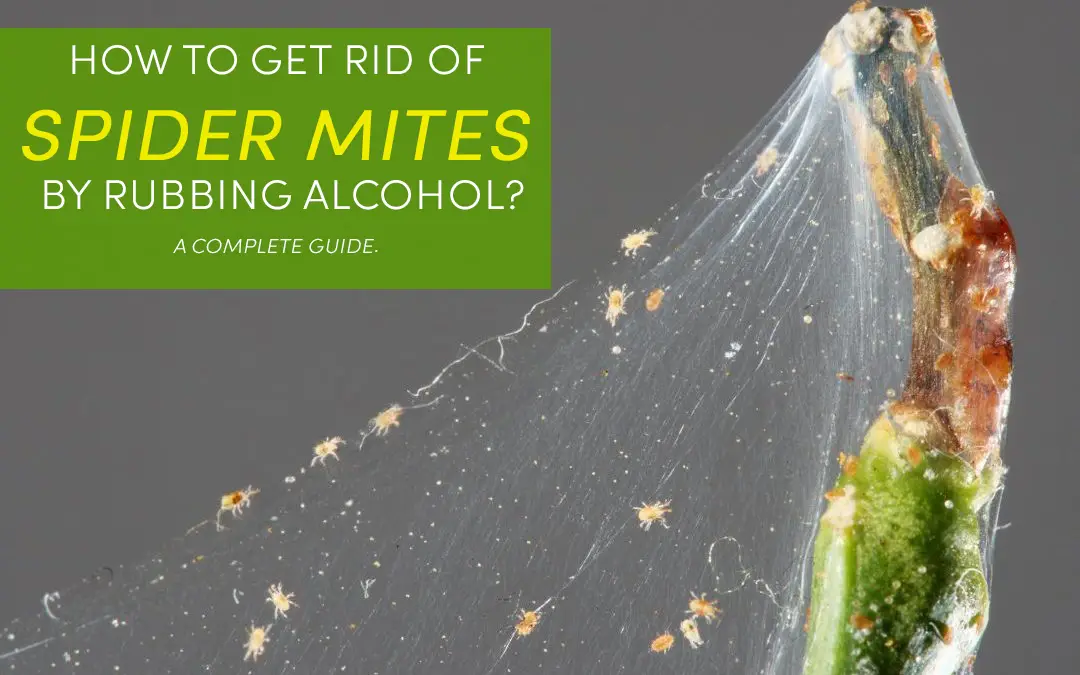 Spider mites are troublesome, especially if your house is full of indoor plants. Spider mites can easily inhibit your space if the plants are grimy and dehydrated. They are less than a millimeter in length and hence are not easily visible.Â
The spider mites make colonies and eat plants on which they live. The tiny creature can damage the plants in your lawn and indoor areas. Many people have invested a large amount to make the house green, healthy, and appealing. Spider mites can ruin the outlook of your garden. If your plants have been invaded by spider mites infestation, do not worry at all. By using rubbing alcohol, spider mites can go away easily. You might need to dilute a little for sensitive plants, and your plants will be super clean and free from spider mites.
Continuous reading to find out the best ways to get rid of spider mites with the help of rubbing alcohol.
What are spider mites? 
Spider mites are scientifically known as tetranychus urticae. They are pests who depend on plants for food. Since the creature is very minimal in size, it is not easy to locate it often with the naked eye. However, by using a magnifying glass, you can easily spot them. Spider mites can be found in a variety of colors, ranging from brown, red, yellow, and green.
Spider mites rely on the chlorophyll of the plants. They can make plants prone to many other diseases as well. Although spider mites for a maximum of 4 weeks. In the meantime, they easily lay down hundreds of other mites. If you spot them in your house, try to get rid of them quickly. These pests carry the capacity to multiply in three to four days.
Signs of spider mites on plants: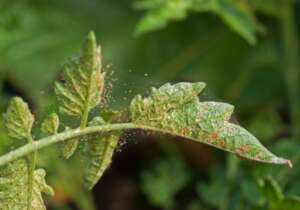 Multiple signs can help you spot spider mites. If you notice any of the below-given signs, spider mites might have attacked your expensive plants. It is time to take action.
The vibrant outlook of your plants will start rusting down. The most prominent symptom of spider mites infestation is graying of plants. You will see the shine of leaves is no longer visible.
If you notice any shift in the physical outlook of your plant, it means spider mites have infested. Take a magnifying glass and look for webbings on the plants. If you notice webbing with very small pests, these are spider mites.
If the magnifying glass is not available, touch the leaves with fingers. You will feel the surface of leaves has a sandy texture. That is not dust, but rather spider mites.
Many plants start the discoloration process after spider mites infestation. If you notice leaves getting colorless, look for spider mites pesticides.
How to get rid of spider mites by rubbing alcohol?
In the market, many spider mite pesticides are available. These pesticides, sprays, and solutions may cost you a little high. Other than that, some pesticides contain very harsh chemicals. The spray kills the spider mites but also damages the plants health at the same time.
You can make DIY home-based spray very easily. All you need is alcohol and some other helping material to wipe off the spider mites from your indoor plants and lawn area. The cost of this solution/spray costs almost nothing.
Things you will require:
Water
Safety gloves
Bowl
Spray bottle
Steps:
Take a dry bowl. Now add two parts of rubbing alcohol and two parts of water to the bowl. 
You can measure the quantity as you need.
Make sure to dilute the alcohol with water, otherwise, it can damage the plant.
Now take a spray bottle. Add solution to the bottle.
Wear gloves before spraying them on the plants.
Spider mites can stick to your skin and cause allergy or irritation.
Now spray the plants or garden where you see an infestation.
Spray on all sides of the plant to kill all the spider mites.
You can keep spraying the plants twice a week to get rid of the spider mites.
In case the problem is so intense, you can take a cotton swab, dab it in rubbing alcohol and wipe off the leaves with it.
Later on, spray the plant with simple water and take regular care of the plant.
How to prevent plants from spider mites infestation?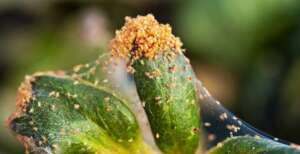 With rubbing alcohol you will be able to get rid of the spider mites. However, you also need to maintain the plant to prevent any future infestation. Follow the instructions to prevent your plants.
Cut off most affected leaves.
The leaves with the majority of discoloration and infestation are not curable. Hence, it is better to shed them off. These leaves can damage the health of the whole plant. It is ideal to cut them.
Keep the new plants separate.
In case your garden was infested with spider mites recently, keep new plants isolated from the affected plants. This step is to make sure that new l=plants are not at the risk of catching any disease or spider mites.
You may also like : How to Get Rid of Ants in Vegetable Garden: Save Your Crop
Maintain regular cleaning and nutrition of plants
Negligence is one of the most substantial reasons behind the great spider mite infestation. Keep a cleaning check of your plant regularly. Keep a check on nutrients and necessary fertilizers. Water plants regularly, and physically examine to avoid any serious consequences in the future.
Conclusion
Spider mites are eating creatures with very minimal visibility. However, by deeply examining the plant with a magnifying glass, you can observe webbing and infestation. These mites do not only affect the shiny outlook of the plant but also lead the plant towards many diseases and discoloration. Spiders mites are pets relying on plants.
By spraying a solution of rubbing alcohol and water you can get rid of mites. However, in case the infestation is beyond control, shed off the large affected area to prevent other plants. Keep new plants away from affected ones. In severe spider mites attacks, you might need to seek professional help to restore your indoor plants and home garden.