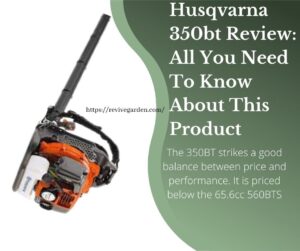 The Husqvarna 350BT review is difficult to overlook for gas-powered blowers. The Husqvarna blower is one of the most popular leaf blowers.
The Husqvarna 350BT's success stems from its qualities; it performs an excellent job of blowing dust, leaves, and other yard detritus effectively and swiftly.
Overview
The 350BT strikes a good balance between price and performance. It is priced below the 65.6cc 560BTS, a full-featured professional-grade leaf blower with a heavy-duty air filter and long-lasting engine.
The Husqvarna 350BT features you'd expect from a high-end backpack leaf blower, including cruise control, an adjustable handle, and a cushioned harness.
This machine has cruise control, which keeps your hand from cramping. Fortunately, this machine does not overheat, so you may keep working till the gasoline runs out. With a full tank of gas, you can labour uninterrupted for hours.
Features of Husqvarna 350bt
Brand Husqvarna
Power Source Gas Powered
Style 350BT
Color Orange
Item Dimensions 79 x 19 x 19 inches
Item Weight 22.5 Pounds
Air Flow Capacity 692.17 Cubic Feet Per Minute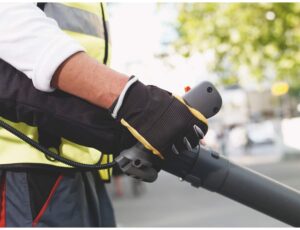 Review of Husqvarna 350bt
It's one of the highest-rated models on the market, and in our Husqvarna 350BT review, we'll attempt to explain why and help you decide if it merits (and is suitable for) a spot in your shed!
Weight
It's critical to consider the weight of this item while determining its comfort. It is why the Husqvarna 350BT leaf blower has a harness that relieves the weight off your shoulders, allowing you to use the machine for extended periods. The harness is made out of a belt and two shoulder straps that you may adjust to fit your preferences and body.
Handle

The harness straps are constructed of breathable material and are sufficiently padded to provide optimum ventilation while working out in the sun. It also comes with an easily adjustable ergonomic handle . Rubber inserts in the handle increase your grip, ensuring that you don't slip even in damp weather.
This gadget has a reasonable weight range for a gas-powered blower, weighing 22.5 pounds (10.21 kg).
X-Torq engine
Husqvarna has gone in a different direction than other leaf blowers in terms of engines. The X-Torq engine has a revolutionary stratified system that optimises two-stroke motor performance.
The Husqvarna backpack blower engine is to match the emissions and efficiency of four-stroke engines while preserving the lightweight and compact nature of two-stroke engines.
The X-Torq engine in this Husqvarna backpack blower ensures efficient 2-stroke engine functioning. The engine preserves the machine's lightweight and compact character despite its efficacy.
Secondary Butterfly valve
A secondary butterfly valve in the blower's carburettor lets the device squeeze in the fresh air after its power stroke. The fresh air charge guarantees that the burned fuel-air combination exits the blower's crankcase and new air enters. The fresh air charge improves the blower's performance by preventing fuel-air vapours from escaping outgoing gases.
Effectiveness
This technology decreases exhaust emissions by up to 60%, making the engine more ecologically friendly and ensuring that the gasoline lasts longer. The blower will create greater torque, which will improve the engine's power band efficacy, allowing for enhanced throttle response and airflow performance.
Ergonomic Features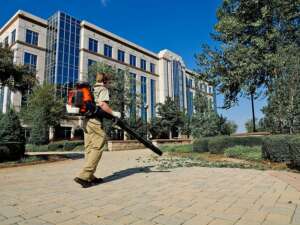 The various ergonomic characteristics of this machine are appreciated since they make running a blower for long periods more pleasant. The movable, offset grip on the tube-controlling arm is a new ergonomic element that relieves the forearm and wrist pressure.
Power
Another important factor to consider while evaluating this item is its power. A leaf blower may not be useful if it cannot move enough air at a high enough pace to displace grass, leaves, and other debris.
The wind speed of the leaf blower is 180 miles per hour. It also has a wind displacement of 500 cubic feet per minute, which is more than enough power for any leaf blower to scatter a yard full of leaves swiftly. You may also use the blower to clear a greater area with its 180 mph speed.
Easy to use
After an hour or two, leaf blowers can get heavy, if not sooner. The 350BT is a backpack model. It's well-balanced, with a supportive harness that distributes weight evenly over the shoulders. It makes 350bt pleasant, even after hours of leaf blowing.
Level of Noise
Leaf blowers are among the noisiest devices regarding noise levels; they sound almost as loud as chainsaws. Even at 20 feet (6.1 m), most leaf blowers emit a high-pitched scream that is quite uncomfortable to the hearing. This leaf blower produces 94 decibels, which is noisy but not as loud as other leaf blowers on the market. Most blowers can generate noise levels of up to 112 dB, making 94 decibels appear pleasant. When using a leaf blower, always wear safety gear such as hearing protection, goggles, boots, and gloves, despite the decreased noise levels.
Consumption of fuel
The fuel consumption of this blower is significantly lower than that of its competitors. The gas tank size of this leaf blower is 1.25 litres (2.24 fl oz), and the engine greatly minimises fuel consumption. The large gasoline tank allows you to operate for an hour without worrying about replenishing the blower.
Speed Controls
The Husqvarna 350BT has multiple speed settings, making it simple to use. You can gently clean debris using the appropriate selection based on the weight of the twigs, grass, and leaves with varied speed settings.
Performance
Despite the 350BT's slightly lower airspeed at the nozzle of 180mph than the 150BT's 215mph, the 350BT's better CFM (air volume) rating allows it to clear large amounts of leaves in less time. It may readily blow huge heaps of thick oak leaves, a few inches of dry snow, caked mud, heavier material, twigs, and detritus. It features a fantastic beginning mechanism, and when combined with the superb carburettor and priming bulb, you'll be able to start this blower in only two pulls of the cord, even in the dead of winter.
It is an all-season machine that is both durable and simple to maintain. You can easily blow sand and debris out of the crevices in your pavement, and it has no issue with wet leaves. Just make sure the air filter isn't clogged and leaves don't block the intake net.
Warranty
A 2-year guarantee is with this leaf blower. You can, however, extend the guarantee to three or four years. It only takes two steps to upgrade to a 3-year warranty or double it to a 4-year warranty. The issue isn't that these steps are challenging. The problem is that you must conduct them appropriately and comprehend the method before buying a leaf blower.
pros
Excellent engine
Superior strength
LowVib shock absorption
Comfort
Manoeuvrability
Low rate of fuel consumption
Cons
It might get noisy after some time.
FAQs
Is the Husqvarna 350BT Blower Simple to Assemble?
Yes, putting this blower together is simple. Begin by clamping the body of the blower to the elbow. The control pipe can be attached to the flexible section. Connect the wiring and holder to the control pipe. Finally, connect the nozzle to the straight line.
What Is the Difference Between a 350BT and a 150BT Blower?
Both of these models are nearly identical. The speed and airflow are the only differences between the two. The Husqvarna 150BT blower has a higher 245 miles per hour rate than the 350BT blower.Â
The 350BT blower has a higher velocity than the 150BT, making moving huge mounds of waste simpler.
What is the procedure for starting the 350BT blower?
It doesn't have to be difficult to start this leaf blower. All you have to do now is slowly pull the accelerator trigger until resistance is felt. Then remove the blower cord hard and fast and wait for the engine to try to start.
Final words
While many people claim that this blower is comfortable for a backpack leaf blower, there's no denying that it's larger and heavier than the normal handheld type, so you must first be able to handle the added size and weight. Second, this blower is far too "overqualified" to be performing routine maintenance in the ordinary, relatively small yard. If that describes you, consider a smaller portable electric type.